Self Drive Tour & Car Hire – Fraser Island & Rainbow Beach
Choose a Self Drive Tour of Fraser Island, Call Rainbow Beach Adventure Centre 4WD Hire for a Quality Car
If you have heard of Fraser Island, you are surely aware of its innate beauty. The world's largest sand island welcomes somewhere in the neighbourhood of 500,000 visitors each and every year. The best way to see it all is a self-drive tour of Fraser Island. Rainbow Beach Adventure Centre 4WD Hire can provide you with a stylish luxury GXL Series Toyota Land Cruiser for your ventures around the island. There is much to see and do and if you want to travel on the island you need a four wheel drive vehicle to do so.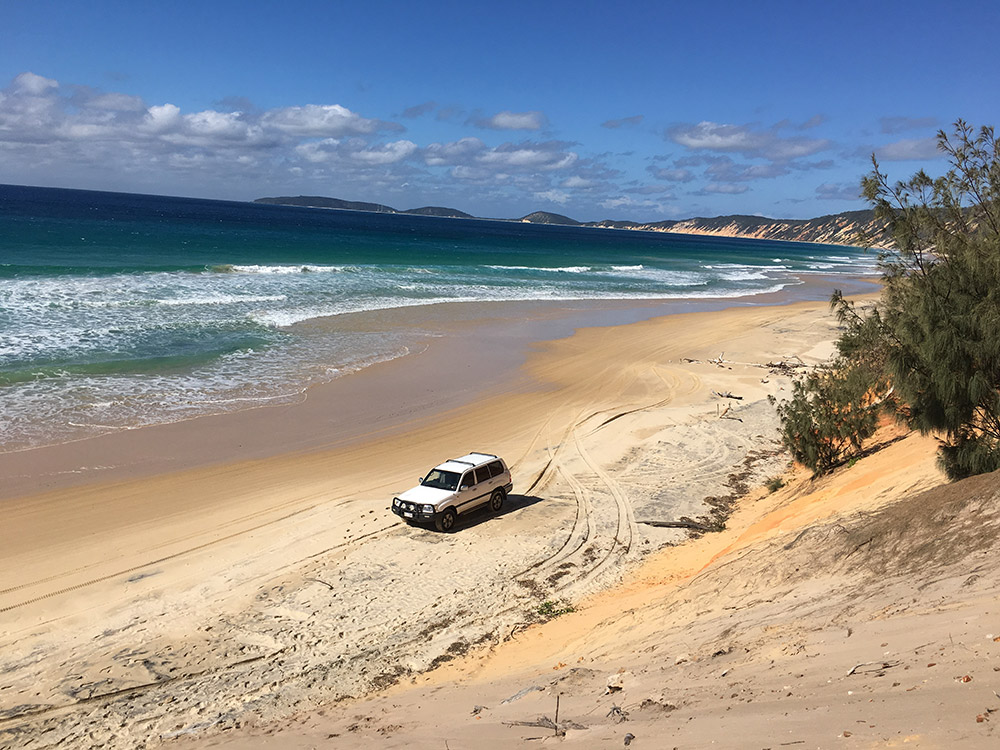 The History of Fraser Island
Queensland's largest island, Fraser Island was once a massive logging settlement. Logging began in the 1860s and continued until 1991 when environmental concerns ended the trade. In the 1950s, sand mining began. The island is rich in deposits of zircon, monazite, rutile, and ilmenite, but mining ceased when all leases ceased. One of the major landmarks that you can visit while touring the island is the S.S. Maheno. The Scottish ocean liner shipwrecked on the east coast of Fraser Island in 1935. The remains are still there today. Today, tourism is the biggest industry and to see what the island has to offer you can hire a car and explore.
Choose Us for Off-Road 4 x 4 Hire in Rainbow Beach
As the Gateway to Fraser Island, Rainbow Beach, located south of the island, is also an area worth visiting on your off road holiday. It is also the home of Rainbow Beach Adventure Centre 4WD Hire. Our family owned business has been in operation since 1999 and we understand the area, what it has to offer, and how to get you into a 4WD vehicle at a much lower price. If you are heading to Fraser Island, you can hire a vehicle from us at a much lower rate than taking a car from Hervey Bay. With our early bird discounts and flexible rates, we can not only provide you with an awesome vehicle for your adventure but do it at a very competitive price.
Things You Must Do on Fraser Island
The island is vast and at Rainbow Beach Adventure Centre 4WD Hire we can provide you with one day or multiple day car hire on Fraser Island. With your vehicle, you can explore the island on your own. There are 120 kilometres of beach highway which will take you to the S.S. Maheno shipwreck if you like. You will be amazed at the beaches and their stunning coloured sands.
If you enjoy fishing, you can appreciate one of the world's best beach fishing experiences while on the island. There are numerous hot spots like Indian Head, Sandy Cape, and the Kingfisher Bay Resort where anglers can fish for a variety of species. You will find dart, whiting, tailor, and jewfish at all times of the year.
When planning your self-drive tour of Fraser Island, start with the right vehicle. Call us at Rainbow Beach Adventure Centre 4WD Hire on (07) 5486 3288 and arrange your car hire. We provide air compressors in every vehicle as well as a number of other items free of charge. You will find that it is much cheaper to do a self-drive rather than a tag along tour. We look forward to hearing from you.
---