"Do I need to fully vaccinated to go to K'gari (Fraser Island)?
Vaccination is not required to visit or stay no the island. For the latest information, visit COVID-19 restrictions in Queensland. 
"Do you organise the ferry ticket and vehicle access permit or can we do that when we pick up the 4WD?"
Both the ferry (or barge) ticket and National Parks permits are payable at various locations in Rainbow Beach. We can help you with these when you pickup your 4wd rental.
Return fare from Rainbow Beach is currently $130. Vehicle access permit is currently $55.90 per vehicle. Public camping permit is currently $7 per night per person.
Alternatively permits can also be acquired online: Fraser Island public camping
Cooloola Recreational Area Vehicle Permit = $13.95 per day (sourced on the internet)
Cooloola Recreational Area Vehicle Permit =$35.59 per week
"How often do the ferries operate?"
Barge services to the island operate daily and on demand, generally between 6:00a.m.-5:00p.m depending on low tide accessibility.  Travel time from Inskip Point to Fraser Island is less than 10 minutes and enables direct access to the easterly positioned 75 mile beach.
"What are the basics that I need to know about driving on the beach?"
The eastern beach of Fraser Island is the only trafficable section – being a gazetted 'road' means normal road rules apply including an 80km maximum speed limit.  Tyres are pre-deflated at 22 psi – vital for driving on sand.  The general rule of beach access is 2-3 hours either side of the LOW tide provides beach trafficability (so about 5-6 hours every day).  Remember the tides change daily (move forward approximately 1 hour every day) so tidal charts are a must. Keep these beach driving basics in mind when travelling on sand.
"Do I need a 4WD/4×4 (four wheel drive) to drive on Fraser Island?"
Yes, even vehicles known as all wheel drives will not suffice.  A vehicle that can engage between high range 4WD to low range 4WD is required.  These vehicles will also have another vital component to driving in soft sand – clearance.  Off road tyres, heavy duty lift kit suspension and spring packs create plenty of clearance to ensure trouble free momentum driving through softer/dryer sand and pre-existing ruts created by other traffic on the island.
"Can I take my pet with me?"
We do not allow pets in our hire vehicles. Pets are prohibited on K'gari (Fraser Island) and in the Cooloola Recreation Area. Some animals are permitted at certain campgrounds/caravan parks – always check before taking your pet on holidays.
"What are the main attractions of Rainbow Beach?"
Apart from off road beach attractions such as driving on the beach to surf domain, Double Island Point – other attractions include Red Canyon along connected Teewah Beach towards Noosa North Shore.  Take the Freshwater Road (off road track) back to Rainbow Beach discovering freshwater Lake Poona along the way.  From sky-diving and paragliding to shark diving and dolphin canoeing – there are plenty of activities to keep your fun factor saturated! See things to do in Rainbow Beach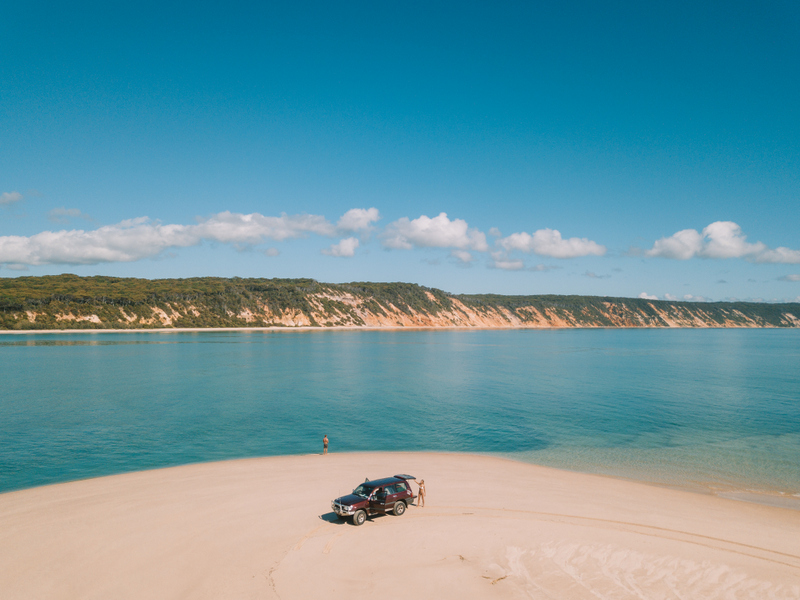 Gazetted road rules apply both locally on Rainbow Beach and Fraser Island.  Off road tip: deflate tyres to approximately 22 psi.
Fraser Island Forum
This wonderful video displays typical Fraser Island highlights exploring the eastern beaches and inland tracks:
Lake McKenzie
Eli Creek
Central Station rainforest
Wanggoolba Creek
Maheno shipwreck
Champagne Pools (north of Indian Head)
Dingoes, goannas, freshwater turtles, eagles and golden orb spiders.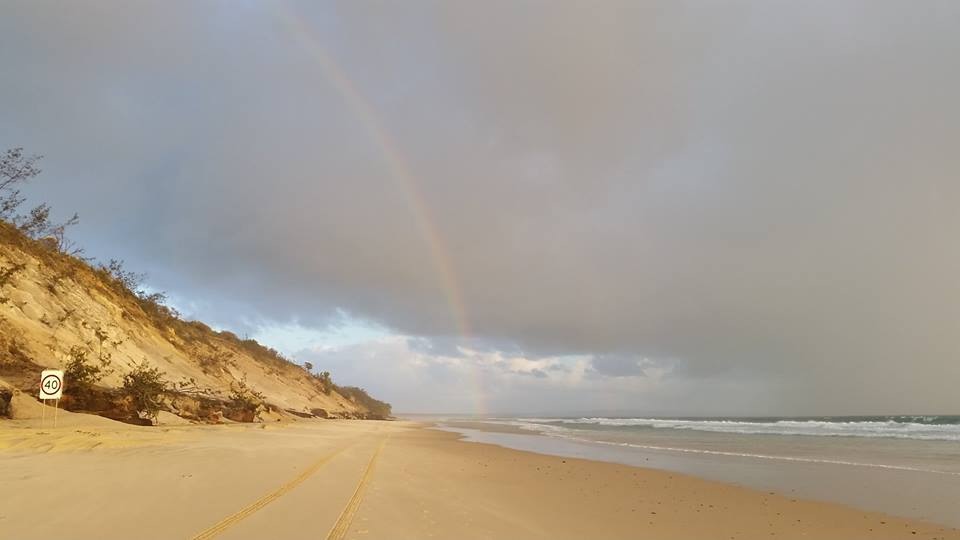 Observe speed limit changes as they are indicated.