Rainbow Beach 4 Wheel Drive Hire & Rental
Need to Hire a 4WD? Pick Up Your 4 Wheel Drive Rental in Rainbow Beach on the Way to Your Fraser Island Tour
It is known as the Gateway to Fraser Island. Rainbow Beach is the perfect place to collect a four wheel drive rental on your way to the island. At Rainbow Beach Adventure Centre 4WD Hire, we have been providing tourists with off road vehicles to enhance their holiday experiences since 1999. Our family owned business understands that most of our customers have never been to Fraser Island and many have never driven a 4×4. With that in mind, it is our goal to provide you with the best in Rainbow Beach 4 wheel drive hire to make your journey to Fraser Island a great success.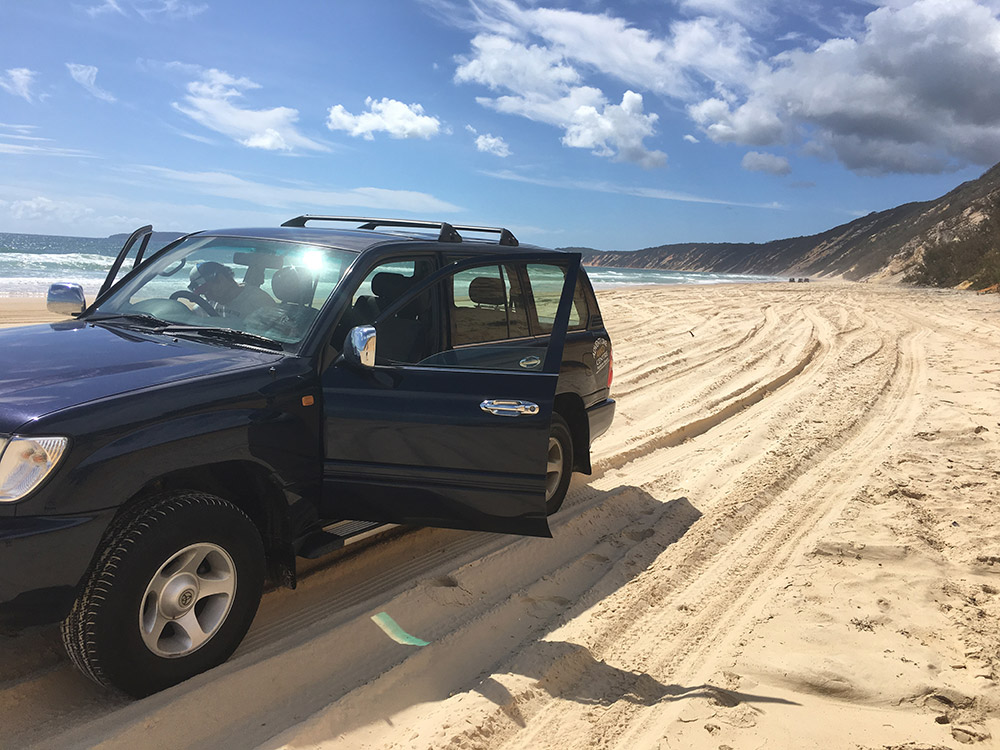 Why 4 Wheel Drive Hire at Rainbow Beach Adventure Centre 4WD Hire
Your Fraser Island adventure begins with the hire of a four wheel drive vehicle that is required for you to travel on the island. Yes, Rainbow Beach is a beautiful starting point with its rainbow coloured sands, but even better is the fact that 4WD rental is much cheaper than taking a vehicle from nearby Hervey Bay. Our competitive pricing offers you tremendous value and includes items such as parking, unlimited mileage, and basic liability coverage.
Upon receiving a vehicle from Rainbow Beach Adventure Centre 4WD Hire, you are also provided with some other services. You are given a driving demonstration as well as a map and a suggested itinerary. With our knowledge of the area, we know the attractions that tourists want to see. Depending on the length of your stay, we can provide you with a suggested itinerary so you get the most out of your holiday experience on Fraser Island.
What to See on Fraser Island
A Fraser Island holiday would not be complete without a visit to some of its most revered spots. Lake Mackenzie is a must-see when you visit Fraser Island. It is one of several freshwater lakes on the island, but its turquoise coloured waters and white sand beaches give it the appearance of a tropical paradise.
Indian Head and 75-Mile Beach are also popular destinations on the island. With a four wheel drive rental from Rainbow Beach Adventure Centre 4WD Hire, you can easily navigate to see both as well as the Champagne Pools. The aptly named water is home to a swimming area that is very popular. The foaming water gives the area the appearance of champagne.
Wanggoolba Creek is another popular stopping point for visitors. You can stop and take the Wanggoolba Creek Walk, about a kilometre trek that takes you through some of the natural rainforests of the island. Another beautiful site is the Pinnacles, with cliffs of multicoloured sandstone. For years, companies around the world came to the island to mine its valuable mineral deposits.
Call Rainbow Beach Adventure Centre 4WD Hire Today
We welcome your enquiries about holidays on Fraser Island. We offer a variety of early bird discounts and are always willing to put together a package deal depending upon the season and number of people travelling with you. You can call us on (07) 5486 3288 or send us an email at enquiries@adventurecentre.com.au for more information.
---