Fraser Island Four Wheel Drive Hire
Experience the Best of Fraser Island and Rainbow Beach, with a Four Wheel Drive Hire
Rainbow Beach and Fraser Island are both among the most beautiful spots in all of Australia, full of photo-worthy views and attractions. The best way to explore either of these locales isn't on foot or a guided tour, though: it's by renting a four wheel drive vehicle and exploring everything yourself.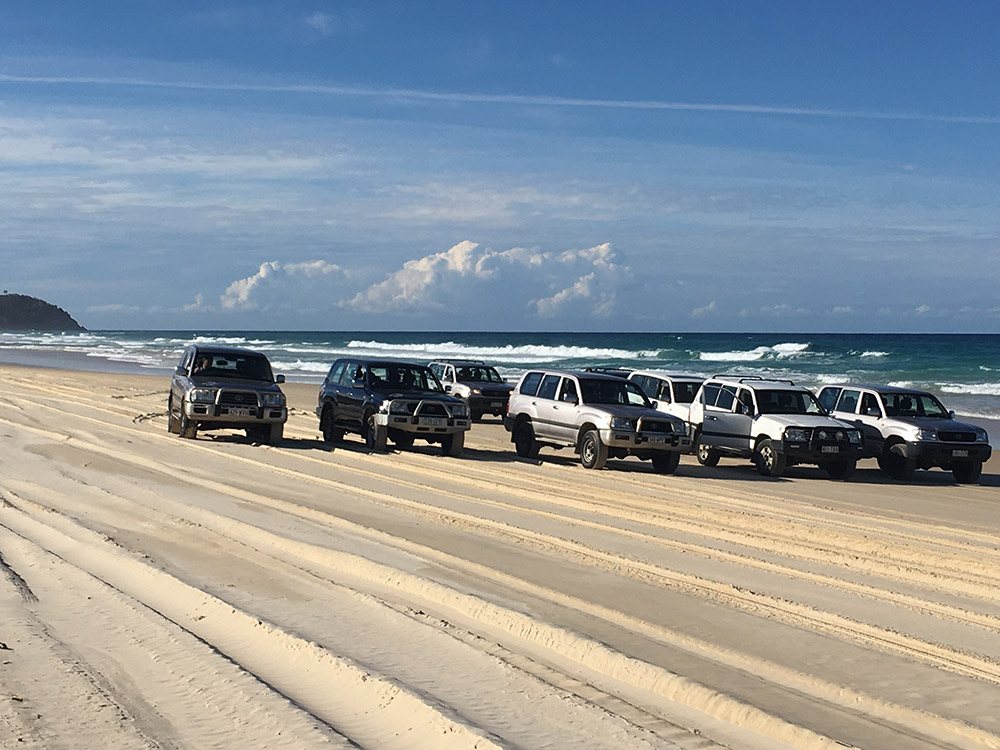 At Rainbow Beach Adventure Centre 4WD Hire, that service is precisely what we provide. Since 1999, we have been offering four wheel drive hires both at Rainbow Beach and on Fraser Island. The entire process is incredibly simple: you give us a call and let us know the specifics of your trip (number of people, number of days, the sites you want to see, etc.) and we put together a flexibly priced 4WD hire package. We provide information on tides, maps, lodging and more and give you the keys to one of our vehicles; you handle the rest!
Seeing the Sites of Rainbow Beach and Fraser Island
From behind the wheel of one of Rainbow Beach Adventure Centre's GXL 100 Series Toyota Land Cruisers, you're sure to see some of the most beautiful beaches, splendid sunsets and breathtaking vistas you will ever behold. You can also decide which sites throughout Rainbow Beach and Fraser Island you are most interested in seeing. We'll provide you with a map and some extra details when you arrive to enjoy your four wheel drive hire on Fraser Island.
In the meantime, though, here are just a couple of the spots worth visiting in Rainbow Beach and Fraser Island:
The Coloured Sands: If you are sticking around Rainbow Beach for your 4WD adventure, then the Coloured Sands should be at or near the top of your list of sites to see. The sands are visible on Rainbow Beach's sand cliffs—which, at up to 200 metres in height, are impressive in their own right. Sources say that the Coloured Sands comprise 72 different colours—the result of iron oxide. Over the course of centuries, erosion of the sand cliffs has uncovered these glorious Coloured Sands, which absolutely have to be seen to be believed. The local aboriginal people have a different belief as to how the rocks became coloured. It is part of their dreamtime legends that play a heavy part in the indigenous community. You can read more about the legends of the coloured sands here
The Champagne Pools: If you are heading to Fraser Island, meanwhile, the top pick destination might just be the Champagne Pools. Saltwater swimming isn't allowed around most of the island, due to dangerous sea life (sharks, stingrays, etc.) and equally dangerous waves and currents. However, you can take a dip in one of these beautiful pools. Formed by volcanic rocks and the oceanic waves that crash upon them, the Champagne Pools have churning, fizzing waters, but aren't dangerous for swimming.
Start Planning Your Four Wheel Drive Hire on Fraser Island or Rainbow Beach
If you need help locating the Coloured Sands or the Champagne Pools on a map, or if you just want a few other recommendations for where to go on Fraser Island or Rainbow Beach, start by calling Rainbow Beach Adventure Centre 4WD Hire on 07 5486 3288. We can't wait to help you plan an unforgettable Fraser Island four wheel drive hire for your family.
---