Four Wheel Drive Hire – Rainbow Beach
Rainbow Beach Four Wheel Drive Hire Will Allow You to Explore One of the World's Most Beautiful Shores
See Rainbow Beach like you have never seen it before. To have the experience of a lifetime, four wheel drive hire on Rainbow Beach is the way to go. You can experience all there is to see when you call us at Rainbow Beach Adventure Centre 4WD Hire. We can provide you with a four-wheel drive vehicle for a day or several days. If you are heading to Fraser Island, we can rent you the 4WD you require to travel the island. Since 1999, we have been providing travellers with off road vehicles they need to get the most out of their experience at Rainbow Beach.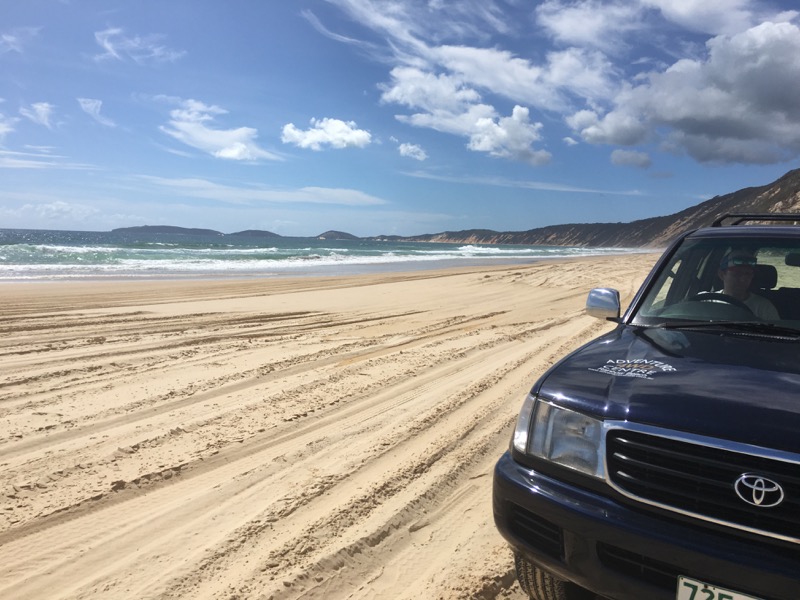 The Main Attraction at Rainbow Beach
It is the multi coloured sands that attract thousands of visitors to Rainbow Beach every year. The rainbow coloured dunes bring up to 70,000 visitors each year. Enjoy 23km of gorgeous curved beach to explore by foot or by four wheel drive. If you want to see everything that Rainbow Beach has to offer, you will not regret calling us at Rainbow Beach Adventure Centre 4WD Hire.
The beautiful beach gives way to sparkling open water that is perfect for swimming, snorkelling, sailing, and surfing. Rainbow Beach is also a popular destination for surfers due to the conditions. Bring a surfboard on your 4WD and take a shot at the waves that the bay-like beach has to offer.
Whale Watching at Rainbow Beach
Another favourite activity at Rainbow Beach is whale watching. If you happen to visit between July and November, you will have the opportunity to witness some of the world's most marvellous creatures. Whales will migrate to the Queensland area because of the warmer climate this time of year. Call us for your Rainbow Beach four wheel drive hire and explore to find the perfect whale watching location.
Other Highlights of Rainbow Beach
There are a variety of other interesting sites and things to do at Rainbow Beach. It is truly one of the most visually appealing places in all of Australia. Your travels should include stops at Mudlo Rocks, Double Island Point, Teewah Beach and Red Canyon. There are campgrounds available (permits required) and we can provide you with a camping kit, which includes tents, sleeping mats, eskies, and more. All vehicles also come with air compressors. Our goal is to provide you with all you need to get the most of your Rainbow Beach experience.
Call Us for Four Wheel Drive Hire on Rainbow Beach
With our extensive experience in the industry, we understand what people are looking for when they need 4WD hire in Rainbow Beach. We provide all our customers with an outstanding vehicle. Our fleet is made up entirely of Toyota GXL 100 Series Land Cruiser vehicles. Once the 4WD is selected, we offer all customers a driving demonstration as well as other information they will need to make their trip a success. Tidal information, a map, and a suggested itinerary are also included.
Our customers have found that Rainbow Beach Adventure Centre 4WD Hire offers tremendous value. Our prices include GST, unlimited kilometres, parking, and basic liability coverage. For quality Rainbow Beach four wheel drive hire, call us today on (07) 5486 3288.
---