Basin Lake- a Different Adventure on Fraser Island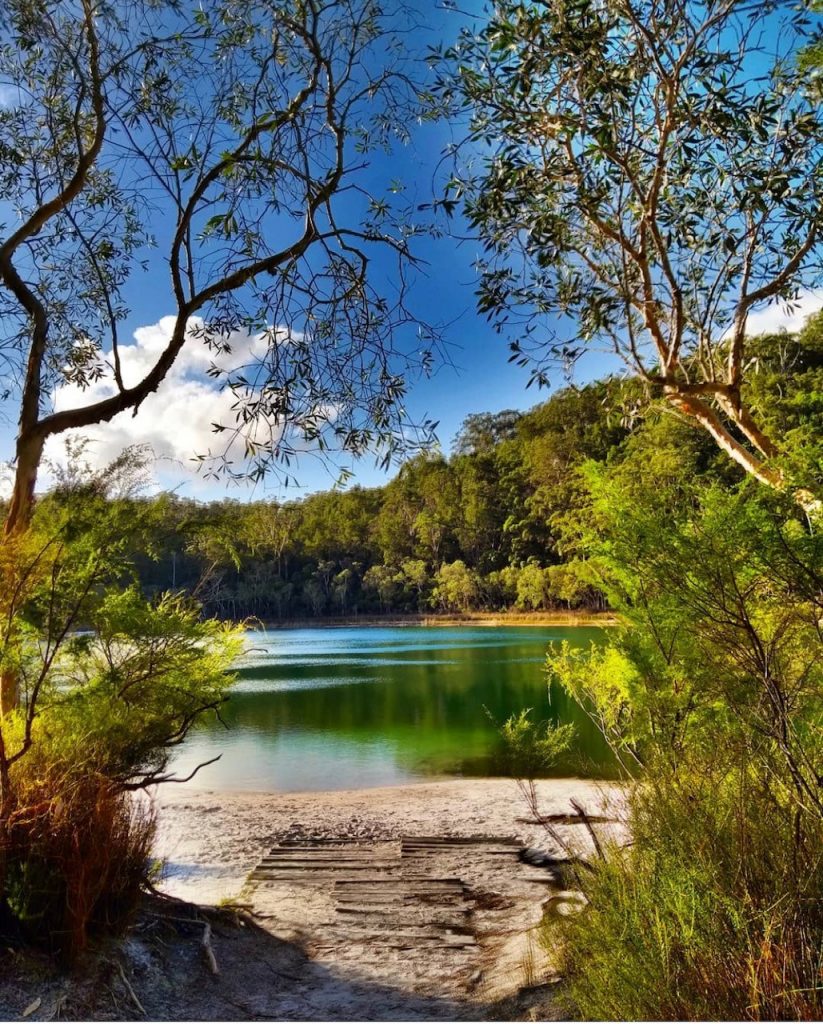 03/09/21
"If happiness is the goal – and it should be, then adventures should be a top priority."
― Richard Branson
I love sending people on adventures to different areas on Fraser Island that they may not have heard of. It's always good to try to surprise people with more than they expect- and K'gari definitely delivers on that!
Basin Lake is one of those places that I try to fit in on our customers self-drive 4wd adventures where possible.
I love it because a lot of the time you can have it entirely to yourself! Absolutely perfect spot for a swim to refresh after the walk out there. The scenic track is 2.8km each way through lush rainforest and is not difficult.
It is amazing to think that all of that lush vegetation grows directly out of the sand- a soil known for its lack of nutrients!
Basin Lake is a football field sized, black water, perched lake. A perched lake is a waterbody formed above sea level; organic sediment hardens on the bottom and the lake is actually filled with pure rainwater. It is amazing to think that Fraser Island has more than half of the worlds perched lakes. There are around 80 perched lakes in the world and K'gari has over 40 of them!
The start of the walk is located at the Central Station Day-use area (this is where logging families built their homes and school in the 1920s- way before the island was World Heritage Listed).
In this place you can also check out the magnificent Kauri Pines covered in Epiphytic Elkhorns and Staghorns.
The Kauri Pine was logged on Fraser Island– its wood was prized for ship building and flooring as well as other things. One of the largest recorded Kauri Pines was 255cm diameter at breast height. Sadly, those massive trees have been cut down- but there are plenty of huge Kauri Pines to view in this beautiful location.
Wanggoolba Creek is another highlight to see here. Follow the boardwalk along this crystal-clear waterway and you might even spot some eels swimming- the water is so clear that they look like they're floating! You'll also view the giant King fern (Angiopteris evectus) – which is very rare and is only found in two other places on mainland Australia. The King Fern has fronds that are up to 5m across!
Ask us to add Basin Lake to your Central Station visit when we design your customised itinerary for your self-drive 4wd Adventure!